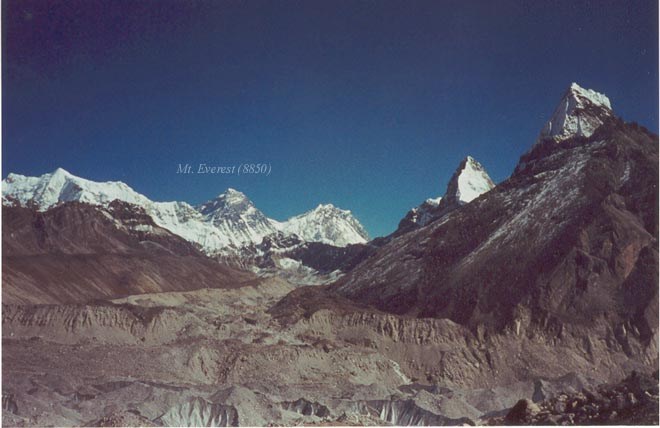 The Everest Trek, Nepal
9. nov - 1. dec 2001
Kathamndu- Jiri-Gokyo-Lukla-Kathmandu
This report is written for two reasons: as a memory of the trip for our own sake, and as an experience report for those who are planning on travelling to the Everest Trek.First there are a general description of Kathmandu and some thoughts on choosing a trekking company. After this the trek is described day by day. We hope you like it.
Arriving in Kathmandu, Nepal
We arrived, from Norway, in Kathmandu 6. november. The flight into Kathmandu was alone worth the ticket: sailing across the fertile and flat farmlands of India, watching the Himalayas snowwhite peaks hovering above the clouds as sharks teeth, dim greyness separating land and sky whereas the Himalaya peaks certainly belonged to the blue sky, diving into the clouds and discovering the irrigated valleys and hills with small houses and colorful fields of rice and other vegetables, and at last landing in Kathmandu which most of all resembled Duckville (as in Donald Duck) with its flatroofed houses, colors, animals (!) and villagecityish life. (another metaphore for norwegians can be Flåklypa). The valley radiates peace ... that is until you go through the airport, get chased by porters that wants to carry your bag to a taxi (don't pay them any tip unless you asked them to carry!!) and take the taxi through the chaotic and dirty traffic....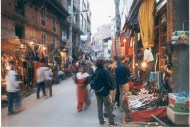 KATHMANDU
Accomodation: Kathmandu Guest House. Safe bet. Good food. Professional staff. Photo developer, massage shop, barber shop, BBC World on the telly and all you need in a short distance. The garden is a quiet and safe oasis. Rooms differ: 8$-room with shared toilet is OK, 6$ is hardly OK, 20$ is almost european standard without the telly. (all prices/rooms are 2 persons).
Connection: There are several internet-places with fast communications (though it differs, try around). It costs 30 rupi for an hour surfing (read that, TeleNor (norwegian telecom)). Namche Bazar also offers internet, but a little very expensive.
Mountain gear: Both in theory and in pracsise you can buy all your mountain gear in Kathmandu. It is cheap, but do not come with a guarantee... and it is not necessary your size perfectly. Some price examples:
- fleece jacket : 500 rupis (75 rupi = 1 dollar, nov 2001)
- drinking bottle, plastic with holder: 150 rupi
- casual trousers: 800 rupi
What you need for the trip
In daytime the sun makes it terribly hot. Shorts, a hat, T-shirt and sun-screen are sufficient. In the morning, evening and nighttime it is relatively very cold. Fleece-jackets and trousers are a must. Myself, I can't live without good socks so I spend some money on good quality. In november/december there are no leeches (in case you are afraid of walking in shorts).
We had no snow or rain during the whole trip. I could walk in jogging shoes all the way from Jiri to Gokyo Peak. Still I brought my trekking boots and would not travel in such heights without bringing them along.
And a final note: From Jiri to Namche I hoped for shadow and clouds, it was too hot to walk in the sun, from Namche to Gokyo I enjoyed sunshine and warmth, it was too cold in the shadows.
About trekking and choosing a company We decided on one guide and 4 porters. We paid 7$ a day for each porter, 12$ a day for the guide, and 40$ for transport Kathmandu-Jiri. This sums up to 271$ pr person (5 persons). The porters did their job just fine, smiling and happy every day and making a dialogue in their very limited english. Our expectations for the guide and the trekking company were not met.

GUIDE: Besides having walked the route before (preferably many times), knowing about medical issues and have a basic course as a guide (there are official schools), your guide should know english! Communication is everything. And for our sake it happens to be in english. In retrospect I would gladly paid a couple of dollars more for a guide more skilled in speaking the english language.
Do you need guide or porters? No, you don't. The Everest Trek is easy to walk following a guidebook and a map. You can negotiate lodges at every place without the help of a guide. You can carry as much as you like and thereby get as much excersise as you like. Of course we enjoyed walking along with no luggage, and it was comfortable not using any time on deciding (and testing) what lodge we should pick. In this special occation it was a great comfort to have a guide because of the civil war. It is all up to you. We don't regret our choice, it was right for us, saved us a lot of physical trouble and we supported the Nepalese economy (the last point is institutionalised in Kilimanjaro where you have to hire a guide with porters either you like it or not). BUT next time I will be much harder on the english skills part of our guide...

The water-index (the price in rupi of one litre of water in a new, sealed bottle):
Kathmandu 12, Jiri 40, Shivalaya 50, Bandhar 70, Kinja 60, Sele 60, Junbesi 60, Ringmo 80, Nuntala 100, Kahrikola 100, Kahri La 110, Surke 100, Pakh Ding 100, Namche 60 (in shop)/ 80 (hotel Norline)/ 110 (hotel Everest View), Dole 180, Machermo 180, Gokyo 150, Lukla 100.
NB! It is cheaper to buy water in shops than on hotels/lodges. See Namche as an example.
Our medical kit:
Paracetamol, sunscreen, plasters/bandage (basic first aid kit).
Moisturising cream (it gets very dry above 3000 meters).
Water purifier: jodintablets (used seldom), Micropur tablets & Waterpump with filters (used a lot).
Best read (besides this travelling report ;-)
Jamie McGuinnes, "Trekking in the Everest region", 2000.
and to get som western spiritual guidance:
Paulo Coelho, "The Pilgrimage".
or some hardcore mountain feeling:
Maurice Hertzog, "Annapurna"

Links worth visiting:
The first one that everyone uses are Lonely Planet This is a litle more neutral.
Nepal - Your window on Nepal is a neutral source compared to Nepal News that is government controlled news, but it gives a good overview of everyday Nepal. And it is (of course) far more detailed about happenings in Nepal than any other source.
The gang.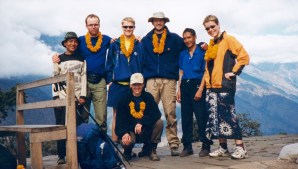 The trekking - day by day
General note: There were so much building and upgrade of lodges along the road that the Lonely Planet guide from 1999 was nearly outdated. Top lodges had faltered, new ones were build. Impressive activity...
Day One : 9. november : Kathmandu - Jiri
Transport. Not much to tell. We started out in a Toyota Hiace which broke down just outside Baktapur. Soon our guide got hold of a jeep. After one blown tire we arrived in Jiri in the evening. This transportation illustrates Nepal in a nutshell: it is up and down, up and down. Highest point 2700 m, lowest 750 m. An amazing and tiring journey. We slept at Chengdung Lodge, 50 rupis pr bed, okay standard.
One lesson about food: eat what the nepalese are good at cooking. Dal Bat - rice with vegetables - are actually good, but for example Pizza only looks good visually... (The exception is the bakeries of Namche.)
Day 2 : 10. november : Jiri - Shivalaya
A rather short and relaxing distance. Shivalaya is built around the bridge over the river Kirimiti. Every house has a "lodge"-sign, we chose Sherpa Guide Lodge. 20 rupi/bed if you eat breakfast and dinner here. This is an important unwritten rule of Nepalese trekking; the money for the lodgeowners does not come from renting beds, but from food. If you don't eat at the lodge, the owner will charge maybe 5 times the rent of the bed.
In Shivalaya we had our first encounter with a troop of maoists. The maoists are welcome in most villages in the Everest region. They do not harm tourists (at least they did only smile and greet us in november 2001). 95% of the nepalese farmers are extremely poor compared to western (dollar) standards. Given the expectations of the west (be rich in material ways) the "Maoist" has a great support in Nepal. Many people in Kathmandu that earn money pay taxes to both the maoist government and the royal government. The troop of maoists we met consisted of 15 poorly equipped teenagers. They were maintaining the bridge in Shivalaya. We only hope that there are some elders that govern their actions... Ten days later, when the civil war broke out in Nepal, there were heavy fighting near Shivalaya...
(NB! In case you wonder about the Maoist-name: they have no support from China.)
Picture of some maoists and others playing volleyball :
Day 3 : 11. november : Shivalaya - Deurali - Bandhar
Breakfast 06:15, on the road 07:00, crossing the Deurali Pass 11:00 and reaching Bandhar 14:00. It gets dark around 18:00 and most evenings we were in bed before 20:00. We camped in Ang Dawa Lodge, just beside the buddist temple (stupa). Better beds and better food than Jiri and Shivalaya. As our expectations on food&sanitary standards are very low we are increasingly surprised by (or used to) the future lodge's facilities.
Day 4: 12. nov : Bandhar - Kinja - Sete
We follow the river Linkhu in 1600 meters height (which is depressingly low ;-) Kinja (or Kenja) is a cozy place with nice houses and a well maintained street. After the long climb to Sete we lodged in Sherpa Guide Lodge (notice the variety in naming the lodges). 20 rupi pr bed.
Day 5: 13. nov : Sete - Lamjura Pass - Junbesi
We are walking through a beautiful rododendro forest from ancient times (seems like) to the Lamjura Pass on 3500 meters. This is maybe the first time you should try to check yourself for symptoms on height sickness. Dizzy? Headace? Fatigue? Neausau? Our fellowhip had no signs of anything, good, but we still got some problems at Gokyo... see below. Junbesi is like Rivendell (Lord of the Rings). It is a valley with a river and a majestic snowcaped mountain in the distance. The Junbesi village has several very well built lodges, they are close to hotel-standard (beware I am now comparing them to the lodges we visited earlier on). At least it seems that the people of Junbesi knows what western tourists appreciate. We slept in Hotel Apple Garden. Try the chocolate cake!
(NB! the bathroom in this hotel looks perfect, but has some plumbing problems when you shower. Maybe fixed when you read this.)
Day 6: 14. nov : Junbesi - Ringmo - Nuntala
Surprise, surprise, the weather is blue sky with a bright and hot sun.
Nepal is up & down. At the 3000 m viewpoint we got a spectacular panorama of the Everest mountain range. Nuptse, Sagarmatha, Lohtse, Ama Dablam, Tamserku, Kusumsang, and so on... Take care of this viewpoint, its one of the best on the entire trip. The pass Traksindo La (3070 m) offered a good view too. And remember to drop by the monastry on the way down from Traksindo to Nunthala.
We stayed at Shangri-La Lodge in Nunthala, and the price for one litre of water reached 100 rupi for the first time.
Day 7: 15. nov : Nunthala - Kharikola
Today we wandered in junglelike landscape and crossed a bridge over Dudh Kosi on 1480 meters. We will now follow Dudh Kosi all the way to its source up at 5th lake in Gokyo at 5000 meters. Kharikola proved itself to be a cozy and friendly place. Stayed at Sherpa Guide Lodge. We celebrated Diwali here. Diwali is like a buddist Thanksgiving, goes over several days, and are quite important for both hindu and buddist. The hinduist offer gifts and flowers to the wealth-creating godddes Lakshmir. Margareth and Guro were convinced to play the role as goddesses and place flowers and "tikka" (red dot in the forehead) on our guide & porters. A fascinating and joyful festivos.
Day 8: 16. nov : Kharikola - Khari La - Surke
The trek continued through a fantastic oldish forest with Dudh Kosi one kilometer below.
More Diwali-festival, more flowers and more "nepali wine" (45% spiritus). Our guide gets drunk and we have to rescue one of our porters in the dark path down to Surke. A little bit annoying, but more experience points for us. We told our guide how to behave in the future and things straightened out afterwards...
Day 9: 17. nov : Surke - Tourist track - Pakdingh
An amazing change happened when we went up from Surke and joined the tourist track from Lukla towards Namche. Tourists swarm in this part of the trek. We had been almost alone in the Jiri-Surke part, but now there were more people and a mor commercial look to lodges and restaurants. We ended todays journey in Pakdingh.
Day 10: 18. nov : Pakdingh - Jorsale - Namche Bazar
Through the gate to Khumbu national park: Jorsale. 1000 rupi fee to enter. You get a permission certificate which you have to show when returning. We are walking along Dudh Kosi where big pine forests make the landscape resemble Norway. But of course we are much higher than any place in Norway. Where the pine forest ends Namche Bazar begins.
Namche is a place to load up your batteries - literary speaking. Namche got electricity so this is the place to reload any electrical equipment such as cameras. Because of the electricity Namche provides you with internet-cafès and three bakeries. The bakeries are excellent!
Namche is also a place where you can buy much mountain gear. We bought ourselves fleece-bags to keep inside our sleepingbags, from hereon the temperature at night creeps below zero (celsius). We stayed at Hotell Norline which has great rooms and good food. Price: 200 rupi/2 bed room.
Day 11: 19. nov : Resting day in Namche
Namche has a small and excellent museum which explains the geological and cultural history of the area. Recommended. We used the day to visit Hotell Everest View, at 3800 meters. 12 rooms at 200$ a night, a small pressurechamber and oxygenbottles. The japanese hotel is far from a commercial success, but you can get lunch there and the food was very good. Actually the hot chocolate was delicious.
Day 12: 20. nov : Namche - Mong - Portse Tenga
It is very cold in the morning and hard to get out of the warm sleepingbag. But here we go again. We do not go to Tengboche (which is the road to Kala Pattar), instead we cross the 3900 meter pass at Mong and go down to Phortse Tenga, a place of shadows and extremely low lodge standard. We chose this place in order to get better acclimatisation. But we soon regret that. Phortse Tenga - as far as we could see - has no good lodges. And it is not a nice place under any circumstance. Well, then, we stayed at Adventure Lodge. A positive thing about this was that we really lowered our expectations for the next lodges...
Day 13: 21. nov : Tenga - Dole
We wandered through som fantastic woods of rododendro and birch covered with longhaired moss. In Dole we camped in Yeti Inn which is a good lodge. Try their dinner speciality Macaroni Vegetables with Eggs!
Day 14: 22. nov : Dole - Machermo
The landscape shifts much like on Kilimanjaro. Finally the forestbelts surrender and the scenery is much more desert- or tundralike. It is very dusty and a clouth to cover your mouth and nose is recommended. A flock of more than 10 eagles hovered above us, a magnificent view. They were accompanied by a swarm of maybe half a thousand (it was basically a cloud of black dots) black crowes which seemed to come from the Cho Oyo. It was much like a scene from Lord of the Rings - the Fellowship of the Ring (though we hadn't seen the movie yet). In Machermo we stayed at one of the best lodges on the whole trip: Namgyal Lodge. As the darkness covered the valley and the stars came out, a lonesome tibetan ranger sneaked into the dinnerroom. He had a weatherthorn face, and old homemade dark red mountainclothes. He sat in the shadows, ate a little, observed us, and then went out into the cold night again. Heading for Tibet for all we know. It could have been a local Strider (Aragorn) from LOTR. ;-)
Day 15: 23. nov : Machermo - Gokyo
We are walking along what must be one of the worlds largest "morene". Glaciers formed this landscape for hundreds and thousands of years ago. The last "little ice age" was in the 17th century. The water from Dudh Kosi is green and yellow of algae and minerals. You easily understand that you should not drink the water from the glaciers. The First Lake is smallest and almost grown over of weed. A couple of ducks make thei home here. The Second Lake is green as jade. At the Third Lake lies Gokyo. We stay at Gokyo Resort.
Dinner: Veggie Omelett with carrots and mushroom. Hot lemon tea. Fried potatoes. Tibetan bread. And a chocolate pudding. The pudding is a catastrophy (as for norwegian taste), but the rest is a feast!
Day 16: 24. nov : Fifth Lake
This is the finale. We walked along the stone and sandcovered glacier Ngozumpa, up towards Cho Oyo base camp. Ngozumpa claims more and more of the land around and when you walk on the edge, be careful! We experienced several minor sand avalanches.
We passed the Fourth Lake which is surronded by sharp, toothlike alpine mountains. We stopped at the Fifth Lake to enjoy the goal of this trip: The Mount Everest View. From this point we can see Cho Oyo (8153 m), Gyachung Kang (7922 m), Nup La (pass 5985 m), Chakung (7029 m), Chumbu (6859 m), Sagarmatha / Mt Everest (8850m), Nuptse (7860 m), Lohtse (8500 m) (heights taken from the Khumbu Nepalese Map). It is an unreal and beautiful view. The wide angle lense on the camera can't justify or grasp the view. Not only romantically, but the mountains is a textbook of geological structures and history.
We eat our lunch here. Egg sandwiches and beef stroganoff (Real Turmat: just add hot water). We take our time and it is warm in the sun.
Everybody in the team is in good shape, no signs of altitude sickness at Fifth Lake. But as we descend both me and Magnar runs out of water. Silly of us. With headache and mild fatigue we come back to Gokyo. After some litres of water I recover, but Magnar is later ill. During the night he vomits and have a serious neasau.
Newsflash: At this very day our guide told us that civil war is breaking out in Nepal. There have been fighting and 200 deaths in the Solu area, not far from our trekking route (see Shivalaya, day two).
Day 17: 25. nov : Gokyo - Dole
We ruled out Gokyo Peak (5300 m) because we felt we would get about the same view as yesterday, there was a civil war and maybe we should try to get out from Lukla earlier, and finally because Magnar got sick. We ate lunch in Machermo (yet another version of Shephards Stew). From Machermo to Dole we used 1 hr 15 min. To our disappointment the Yeti Inn was fully booked, but our disappointment turned to joy when we were placed in the even better Cho Oyo Inn which is the neighbour of Yeti Inn. The rooms are better isolated and it is a fairly new building.
Day 18: 26. nov : Dole - Namche
We tried a new hotel in Namche: Namche Hotel. The rooms we chose could have been presented in Norway with no shame. Attached bathroom. Only the television lacks (and that is no loss). It costs 10$ a night for a 2-person room. It is worth it. It is a special feeling being a veteran (yeah, you may laugh), walking around in Namche, eating at the bakery, been there - seen that - done this, looking at the newcomers. Namche is an allright place to be...
Because of the civil war it is a curfew from 19:00.
Its the first time we are in a country with a violent civil war. Strange feeling.
Day 19: 27. nov : Rest day in Namche
Of our own choice we rested one more day in Namche. It's such a nice place to be. You feel as being on the outer rim of civilisation, but still (by the power of internet) in touch with everybody and everything. Despite readings about Afghanistan bombing, two more airplanes that has crashed in the US and Europe, the bloody civil war in Nepal, and more trivial news from Hobbitton - excuse, Norway, we feel safe in Namche.
Day 20: 28. nov : Namche-Lukla
As we are heading downwards, helicopters fly continously up and down from Namche to Lukla or other airstrips. On our way we meet a department of the military (government) carrying guns and ammunition to Namche. They smile and greet us. Very well equipped it seems. It could just as well been a norwegian infantry unit.
LUKLA has two streets. One is surrounded by hotels and shops, the other crosses this street, is a little bit broader, but much shorter and is called "the airstrip". Oh well, they have improved the airstrip dramatically the last year. Actually we found Lukla to be efficient and safe. More so than many other airports we have been to.
We slept at Hotel Economy Panorama where we could observe the coming and going of Yeti Airways, Buddha Airways and other planes. We changed our ticket from 30. nov to 29. nov. Beware that the ticket office for Skyline is open only between 15:00 and 16:00. Be there or be square...
Day 21: 29. nov : Lukla - Kathmandu
The ticket costs 93$ for tourists, 21$ for natives. The airtrip went just fine. No turbulence. Only a good, relaxing view of our trek. When finally arriving in Kathmandu, we felt the real culture shock! Arriving from Stavanger, Norway to Kathmandu, Nepal, was just coming from one small city to one big, chaotic city. But coming from the serene, silent and clean mountains with the calm sherpa people, to the polluted, psychotic city with trafficjams, millions of people behaving like insects in a beecube, all the shops and commercials screaming at you, ... that was a shock.
I longed back to the mountains after few minutes... but then the city has its advantages. In the evening we went to Fire & Ice to eat real italian pizza with Sangiovese redwine.
A worthy "downcoming"-dinner.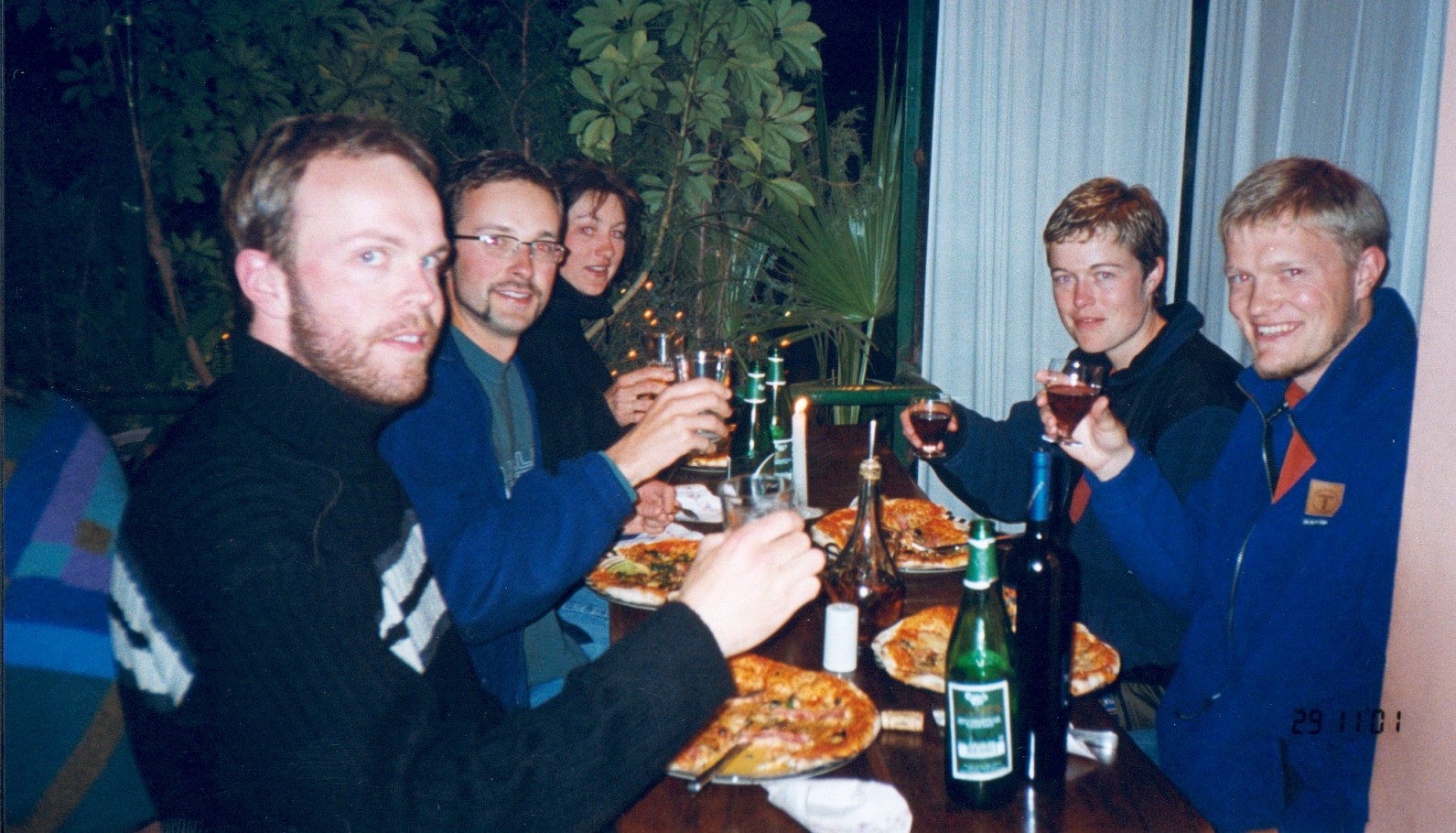 Trekkers from left to right: Magnar Juvodden, Tom Egil Herredsvela, Guro Torkildsen, Margareth Johansen and Brage W. Johansen

Text and Pictures is the copyright Brage W. Johansen